What We Have Funded
The Ocala Royal Dames for Cancer Research, Inc. began its fight against cancer over 30 years ago. Since then, we have provided seed money for carefully screened and promising research projects. Annually the organization provides at least $100,000 in grants per year for Cancer Research.
We HAVE made a difference! ORD funds research in the state of Florida that has had a global influence. We are honored to have provided preliminary funding for:
Keytruda: the first line treatment for advanced Melanoma, as well as the treatment of Non-Small Cell Lung Cancer, classical Hodgkin Lymphoma and a type of Bladder and Urinary Tract Cancer. Seed money provided to Dr. Shari Pilon-Thomas contributed to the development of Keytruda. The drug is not chemotherapy or radiation therapy—it is an immunotherapy that works with the immune system to help fight cancer.
Proton Therapy: an effective alternative to traditional radiation that targets tumors and cancer cells more precisely than conventional radiation. Proton radiation reaches only the areas of the body that are affected by cancer. This leads to less risk that healthy tissue will be exposed to radiation – and reduces the risk of complications and side effects. Fewer treatment complications mean that physicians can deliver higher doses of proton radiation to cancer sites, thereby improving the chances for a successful outcome. Proton Therapy is now used to treat breast, lung, testicular, prostate, brain and many other cancers.
Pediatric Oncologist, Dr. Elias Sayour, have received a $2.5 million grant from the pediatric cancer foundation, CureSearch for Children's Cancer. This will provide funding for the first in-human clinical trial to test a novel form of immunotherapy to treat the most aggressive forms of malignant brain tumors. The Ocala Royal Dames for cancer Research, Inc. Provided seed money for his project, RNA nanoparticle vaccines targeting malignant canine gliomas from 2016-2018.
Dr. Heiko Enderling has recently received $275, 000 from the National Institute of Health to further his research on "Personalizing adaptive therapy for prostate cancer."
Dr. Heiko Enderling has recently received $275, 000 from the National Institute of Health to further his research on "Personalizing adaptive therapy for prostate cancer."
In addition, the College of Central Florida administers the Ocala Royal Dames for Cancer Research Endowed Scholarship:
• Fund balance as of 5/28/2020 was $70,325.85.
• Total Scholarships awarded Academic year 2002-2003 through academic year 2018-2019 $22,900.03
• Scholarship funds allocated for 2019-2020 $2,200
Ocala Royal Dames Endowment for Cancer-Related Educational Resources Endowed Chair:
• Fund balance as of 5-28-2020: $137,731.13
• Total funds endowed in chair awards to date: $47,947.87
Mansour Mohamadzadeh, PhD
Professor, UF Colleges of Medicine and Veterinary Medicine
Department of Infectious Diseases & Immunology
Julie Bradley, MD
Assistant Professor, UF College of Medicine
Department of Radiation Oncology
UF Health Proton Therapy Institute
 2015: Prospective Pilot Study of Early Markers of Radiation Induced Cardiac Injury in Patients with Left Sided Breast Cancer
Maryam Rahman, MD
Assistant Professor, UF College of Medicine
Department of Neurological Surgery
2016: Using SR233 for Enhancing Cellular Migration in Dendritic Cell Vaccine Therapy for Malignant Brain Tumors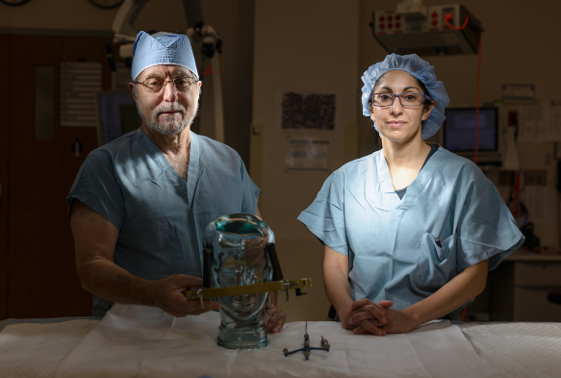 Hendrik Luesch, PhD
Professor And Chair, Debbie And Sylvia DeSantis Chair In Natural Products Drug Discovery And Development
UF College of Pharmacy
Department of Medicinal Chemistry
2016: Targeting Colon Cancer with a Novel Marine-Derived Selective Anticancer Agent
Dr. William Slayton
Assistant Professor, UF College of Medicine
Department of Pediatrics
2008: Optimizing Targeted Therapy for PH+ Acute Lymphoblastic Leukemia
Walter O'Dell, PhD

 Assistant Professor, UF College of Medicine
Department of Radiation Oncology
2013:  Surveillance Imaging Trial for Stage II & IV Breast Cancer Patients
Elias Sayour, MD, PhD
Assistant Professor, UF College of Medicine
Department of Neurological Surgery
Nancy Mendenhall, MD
FASTRO
Professor, UF College of Medicine
Department of Radiation Oncology
Medical Director
UF Health Proton Therapy Institute