Research Projects
Meet the doctors and their research projects for ORD's 2020/2022 funding cycle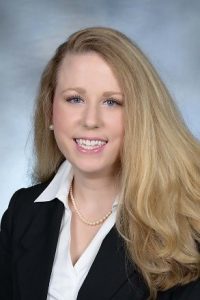 Dr. Alexandra Martin
Dr. Martin is a Cancer Researcher in the Clinical Science Department at Moffitt Cancer Center. She is investigating an innovative way of dosing PARP inhibitors, a common therapy for ovarian cancer in both treatment and maintenance settings. Rather than standard dosing, she uses adaptive therapy based on mathematical models and evolutionary principles to guide drug dosing and on-off cycling, with the goal of maintaining a stable tumor burden by allowing a population of treatment-sensitive cells to survive. Her work seeks to identify suitable biomarkers to further refine mathematical models for use in ovarian cancer patients to delay or prevent drug resistance and disease progression, decrease cumulative drug use, decrease toxicities, increase quality of life and save healthcare dollars.
2020/2022 Martin Research Project: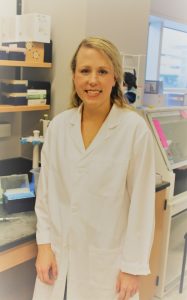 Optimization of poly ADP ribose polymerase (PARP) inhibitor dosing for ovarian, fallopian tube and primary peritoneal carcinoma using adaptive therapy
Despite many new developments in treatment, ovarian cancer remains a leading cause of death in women. Approximately 70% of ovarian cancer patients will experience recurrence of disease. This project will use retrospective data and mouse models to optimize mathematical models and determine the optimal dosing of PARP inhibitors for ovarian cancer patients based on changes in their tumor and bloodwork. The mathematical models will be used to run a clinical trial comparing standard dosing to adaptive therapy, with the goals of preventing or delaying drug resistance and disease recurrence, improving treatment-related toxicities and decreasing overall healthcare costs.
Dr. Heiko Enderling
Dr. Heiko Enderling is an Associate Member in the Integrated Mathematical Oncology Department at Moffitt Cancer Center. His research integrates mathematical, biological, and clinical sciences to model, simulate, and predict treatment response for individual patients. Models are created based on experimental data and historic clinical outcome data to develop, calibrate and validate the mathematical models of a certain disease and a certain treatment response. Once researchers have a model that is performing well, they integrate patient-specific data which is used to predict responses to treatments for individual patients on the computer or to run broader computerized clinical trials to find the best treatment. Dr. Heiko Enderling was recently named Fellow and elected President-elect of the Society for Mathematical Biology.
2020/2022 Enderling Research Project: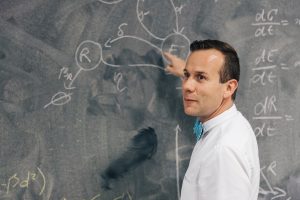 Simulating the effect of photoimmunotherapy on the ovarian cancer immune ecosystem
Despite advances in surgery and therapeutics, the survival of advanced or recurrent epithelial
ovarian cancer (EOC) remains dismal due in part to the complex tumor-immune microenvironment. This project will develop a computer model that simulates the effectiveness of using chemotherapy and immunotherapy in the treatment of epithelial ovarian cancer (EOC). The model can be adapted to develop, calibrate, and validate changes during photoimmunotherapy, and to identify optimal photoimmunotherapy dosage needed to stimulate anti-tumor immunity to target cells which can lead to metastatic disease.
Olga Guryanova, MD, PhD

Assistant Professor, UF College of Medicine
Department of Pharmacology & Therapeutics
The overarching research goal of the Guryanova Lab is to delineate the mechanisms of the cross-talk between epigenetics and chromatin organization, learning how these processes apply to the development of acute myeloid leukemia (AML), resistance to therapies, and clonal evolution. Ultimately, Dr. Guryanova would like to harness this mechanistic understanding to develop improved therapeutic approaches for leukemia.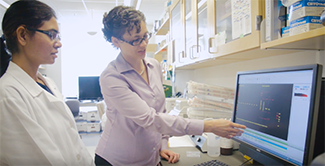 2020: Novel combinatorial treatment approaches to augment sensitivity to cytarabine in acute myeloid leukemia with DNMT3A mutations
Dr. John Mullinax
Dr. John Mullinax is a surgical oncologist in the Sarcoma Department at Moffitt Cancer Center. His clinical practice focuses on caring for patients with soft tissue sarcoma located throughout the body, with a specific focus on retroperitoneal sarcoma, gastrointestinal stromal tumor (GIST), and adrenal neoplasms. A native Floridian, Dr. Mullinax completed his general surgery training at the University of South Florida. During this training he spent two years focused on laboratory research, completing a fellowship in the Surgery Branch at the National Cancer Institute in Bethesda, MD. After completion of his research fellowship he returned to Tampa where he completed his general surgery training, serving as the administrative Chief Resident during the final year. During general surgery training he was chosen as the Tampa Bay Surgical Society outstanding resident, and Resident of the Year twice. He then completed a Complex General Surgical Oncology fellowship at Moffitt Cancer Center prior to joining the faculty. As a fellow, he won the American College of Surgeons Commission on Cancer paper competition. He is currently an Active Member in the Association for Academic Surgery and Society of Surgical Oncology. He is on the Executive Board and serves on the Commission on Cancer committee for the Florida Chapter of the American College of Surgeons.
2020/2022 Mullinax Research Project: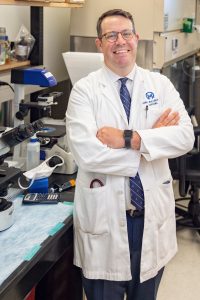 Development of Expanded Access Criteria for Adoptive Cell Therapy in Soft Tissue Sarcoma
Patients with advanced sarcoma have limited therapeutic options and the chemotherapy options that exist do not offer durable long-term survival. Immunotherapy, specifically adoptive cell therapy (ACT) using tumor infiltrating lymphocytes (TIL), offers a new therapeutic option for these patients. This project will build on our clinical trial experience with adolescent and young adult (AYA) sarcoma patients. We will resect a tumor from patients, grow the white blood cells from that tumor in a laboratory and then give them back to the patient after they multiply many times. This method essentially replaces the patient's immune system with their own cells which are capable of killing the tumor. We are currently treating sarcoma patients using this method and we now seek to optimize our methods using several different approaches.
Natalie Silver, MD
Assistant Professor, UF College of Medicine
Department of Otolaryngology
Researchers at the University of Florida College of Medicine Department of Otolaryngology examined the anti-tumor activity of tumor-derived RNA nanoparticles in an oral cavity squamous cell carcinoma murine model. The research was conducted in collaboration with Elias Sayour, M.D, Ph.D., in the UF Brain Tumor Immunotherapy Program. The results were presented at the American Association for Cancer Research meeting in November 2018.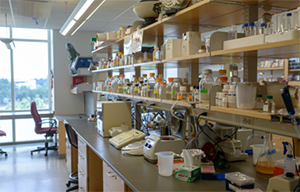 According to Natalie Silver, M.D., M.S., an assistant professor in the division of head and neck oncologic surgery in the Department of Otolaryngology at the university and one of the investigators for this project, UF is one of the few institutions in the world that has developed clinically translatable nanoparticles that can be loaded with RNAs encoding for tumor neoantigens. This is the first step in generating personalized cancer vaccines
2020: "Translating Personalized RNA Nanoparticle Vaccines for Oral Cancer"