Our Mission
"To ensure a strong local/regional effort in the fight against cancer, through funding research and education."
Vision
To continue to fund translational research until cancer is vanished.
To encourage and assist students on every level to gain understanding of cancer and to work toward its elimination.
To educate the public in prevention and early diagnosis – all in local and regional venues
Who We Are
The Ocala Royal Dames for Cancer Research, Inc. was incorporated in February 1987. We are a 501(c)(3) not-for-profit charitable organization. We are unique among charitable organizations in that we are all volunteers coming together with one common goal, to eradicate cancer.
The Royal Dames not only funds research and educational projects, but we stay involved through updates, reports, seminars and yearly tours of UF Health Cancer Center and Moffitt Cancer Center to remain knowledgeable about research that is being done.
The organization is professionally run with a dedicated volunteer Board of Trustees. Our members are a group of spirited women who come from all walks of life. Many are completely immersed in the day-to-day operations of the organization and others who don't have quite as much time to volunteer are satisfied in knowing that their pledges are helping in the fight against cancer.
One of the most satisfying aspects of being a Royal Dame is the wonderful camaraderie and deep passion of all involved. We are truly a sisterhood who will not give up until a cure is found to fight this terrible disease.
Ocala Royal Dames History
In 1986, Theresa Castro brought together a group of public spirited women in Ocala and organized the Ocala Royal Dames for Cancer Research, which became chartered as a 5, 191701 (c) 3 not-for-profit organization February 12, 1987.
Theresa Castro was born February 15, 1917, in McKeesport, Pennsylvania, on a dairy farm.  She married Bernard Castro on Valentine's Day in 1942. Theresa worked with him as an equal partner to build Castro Convertibles into a very successful business.  She become executive vice president and treasurer of the four companies it comprised.  At the same time she raised two children, Bernadette and Bernard, providing a home full of fun and friends.
She was exceptionally generous and made a wide range of contributions to the cities of New York, Ft. Lauderdale, St. Augustine and Ocala.  Theresa's wide range of interests included cancer, heart disease, the deaf and blind, the National Guard and many others.
Theresa Castro was more than our founder. She was the rock that gave us strength, the determination that kept us going, the mind that led us intelligently in the right direction; and, never expected anything in return.  In later years, her generosity turned into true philanthropy.
Ocala Royal Dames Creed
Ocala Royal Dames for Cancer Research
Will work and never tire
Until there's a cure for cancer;
That is our utmost desire.
Each of our lives has been touched
By the dreadful cancer wrath.
So we'll willingly give of our time and wealth
Until a cure is within our grasp.
As we focus all our efforts
Toward our one and only goal
Our dedication to fighting cancer
Is the Royal Dames ultimate role.
We pray for God's Divine Guidance
As the Dames keep searching to find
An everlasting cure for cancer
To benefit all mankind.
Katrina Brantley
The Ocala Royal Dames' Signature Event – The Tiara Ball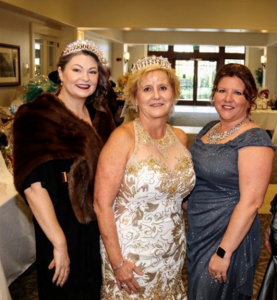 Hailed as the highlight of the social season, this spectacular annual event is attended by community leaders, adovates for cancer eradication and leading researchers through-out the region.  It raises awareness and funds that benefit  cancer research and education.
This event raises the necessary funds to further our mission; funding cancer research, education and awareness.
We invite young women, debutantes, to join us as they make their first appearance as agents of change in the community in which they live. To learn more about our debutante program please visit our debutante webpage here.
To learn more about the Tiara Ball please check it out here.
Membership of the Ocala Royal Dames
Ocala Royal Dames for Cancer Research, Inc., members reflect a broad spectrum of talent and leadership, is comprised of women who are creative, farsighted and oriented toward the betterment of the community, as well as dedicated to the welfare of mankind.  As a living endowment to cancer research and education, members of the Royal Dames pledge $2,500 for the life membership.  There are several membership types and serveral options on how to reach the life membership.  Please check them out here. To be considered for membership, please complete our membership form and our Membership Chair will contact you.
Please join us in our fight to eradicate cancer.